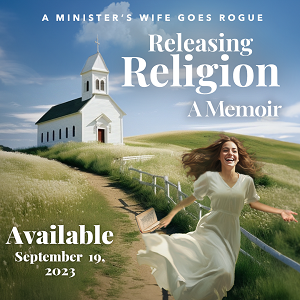 How, where, and when to buy my book

The book will be released on Amazon on September 19, 2023.
Search for Releasing Religion: A Minister's Wife Goes Rogue by Gaye Kick or
The e-book has a special 7-day pre-order period from September 12 to September 18. You will get your pre-ordered e-book on September 19, the same day the paperback version will be available for purchase.
Discounts
The e-book will be $0.99, a discount of $9.00.
The paperback will be $12.99, a discount of $4.00.
Total cost is $13.98, a savings of $13.00.
Take advantage of the

promotion

and purchase

both formats

before the prices increase to retail value.

Tell others about the book.
If so inclined, write a review.
Thank you for your for your support.

Gaye Kick