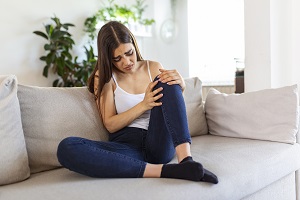 Image by stefamerpik on Freepik
Oh, the PAIN!
I sat quietly on the bench near my locker, my left knee clutched in both hands as bowlers, primarily men, bustled around slamming locker doors in their rush to head home. When my husband, Ron, completed his team captain duties, the pain was searing up my leg and shooting out my eyeballs.
The following morning I startled Ron awake with a scream that reverberated through the bedroom when I swung my left leg off the mattress, and gravity's weight savagely bent my swollen knee.
"I'm so sorry you're in pain," Ron said. "I should have insisted you stay home last night even though you said the knee was better. You're off the team for at least two weeks until you heal. I'll be gone this morning, so take it easy. Sit on the sofa, ice your knee, and watch TV or read a book."
"No problem," I answered. I didn't mention my morning hair appointment or lunch with my daughter.
"I will text the guys on the team that you've been benched. I'll say it was a bowling injury. It's half true," he grinned.
Snickering, I shook my head. "Bowling made it worse; that's for sure."
At the time, I thought sitting on the deck was a good idea. I hobbled outside, setting my book and ice pack on the umbrella table, and went back into the house to get a glass of ice water and grab my cell phone.
Returning to the deck, I attempted to sit on the low chaise lounge but the screams of pain when I bent down stopped me cold. So with two more limping trips, I took everything back into the house. Then I remembered we had crutches somewhere, but I couldn't find them. Maybe they were in the basement.
I gazed at the staircase as I contemplated the thirteen agonizing steps I would have to traverse to get downstairs. Closing my eyes, I attempted to transport the crutches upstairs using telekinesis. Since I didn't have that ability, I wasn't surprised when it didn't work.
With both hands, I grabbed the handrail, descending the stairs sideways, bending the bad right knee (old cheerleading injury) as I lowered the stiff left knee to the step below it. "Ow, Ow, Ow, Ow."
The crutches weren't in the basement either. When I arose from the trek below ground, I rechecked the front hall closet, and there they were, hiding in the back corner. I swear they weren't there when I looked before. Maybe I did transport them upstairs!
I'm 5 feet and 4 inches tall. The top of the crutches, where my armpits were supposed to sit, was at my jawline. I tried to adjust the height, but they were already at their lowest setting. Geesh! I couldn't get a break, and now it was time to leave for my haircut. I would have to ice my knee after lunch.
Getting my left leg into my Camry proved yet another challenge. And then the car didn't start on the first attempt. This day was not going well. Could it be because of that so-called big fat bowling injury lie?
Shuffling into the hair salon that I'd been patronizing for over 20 years, the gal at the front desk noticed my limp. "What happened?"
I looked down at my knee to hide the lie in my eyes and answered, "Bowling injury." I wasn't telling anyone the truth—it was too personal.
After the haircut, the Camry moaned twice before turning over. I called Karen, told her I was taking my car to get a new battery, and asked her to pick me up there.
As I slowly entered the auto service center, the good-looking young man behind the counter inquired about my gait. My lying face looked him straight in the eye and announced, "Bowling injury." I was getting better at this.
"I understand," he replied. "I've been there."
"I doubt it," I whispered to myself. He was too young and limber to have been there.
Karen entered the shop to tell me she was parked outside, then turned and broke into her long-legged walk back to her van. She was eight steps ahead of me when she turned to say something and noticed my slow stilted walk. "What's wrong?"
"I hurt my knee."
"How?"
"It was, ah—bowling injury."
Karen's eyebrows pinched together as she stared at me.
It must have been my hesitation that tipped her off. Her eyes suddenly grew wide, and putting her fingers in her ears, she screamed, "Ew! Don't tell me. I don't want to know what happens in your bedroom!"
I laughed at her reaction and tried, without success, not to smile when the words, "It was a bowling injury," slipped smoothly out of my mouth.
Trying to hold back her smile, Karen pointed her finger at me, "Liar, liar pants on fire!"
I responded, "I think the more accurate phrase would be liar, liar, knee on fire!"