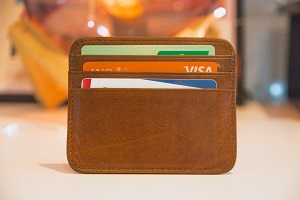 Of the 8 million Americans who received their second Covid-19 stimulus payment on a debit card, my 90-year-old mother should not have been one of them.
When Mom opened a letter with a debit card attached, she assumed it was junk mail and tossed it in the trash. Having second thoughts, she pulled it out of the garbage and, with her failing eyesight, concluded that it was about the stimulus payment. Since her first payment came by check, she thought the letter might be a scam.
I visited mom a few days later when she asked, "Did you get your stimulus money on a debit card?"
"I got both payments by check," I replied. "Why?"
"Take a look at this letter and tell me if you think it's for real."
The letter said it was her Economic Impact Payment card from the U.S. Department of the Treasury. It had a blue and gold seal, smaller than a dime, with white words around the outside. The text was so tiny I couldn't read it, and I have good eyesight. Could that indistinguishable circle be the Department of the Treasury Seal, or was it blurry and too small to read because the letter was a scam?
In the summary of terms and fees, I saw a $2.00 charge for all withdrawals except for the first one. Why would the government put money on a card that charged a fee to withdraw it?
"I don't know, Mom. It could be a scam. I'll have to do research when I get home." Unfortunately, I forgot.
"Why would they send me a debit card?" Mom said. "I'm grateful for the money, but I can't use a debit card to pay my bills. They're automatically withdrawn from my bank account, my meals are included in my rent, and I only shop once a month when you take me to buy eggs, milk, and wine."
She paused for a moment looking at the debit card. We both laughed when she announced, "I'll probably be dead before I get to spend all the money on this card."
A few days later, she called me from her independent living retirement community. "A lot of the residents here are getting the debit card and don't know if it's real or not. I've been telling them it's a scam. Then one of my friends told me it was legit, and since I can't see very well, she offered to activate my card for me. Of course, I had thrown it away again and had to dig it out of the trash."
I headed over to Mom's to reread the letter and figure out how to move the money to her personal account.
How to Access Your Stimulus Payment
Make Purchases In-Store, Online, or by Phone
This option was off the table. Mom wanted the money moved from the card into her bank account or handed to her in cash.
Transfer to a Personal Bank Account or Withdraw Cash at a Bank
I called her credit union. They didn't have the ability to cash out or transfer money from the government card. Their only suggestion was to withdraw it from an ATM and deposit it manually into her account.
Get Cash at Surcharge-Free ATMs
I drove Mom to the free ATM at the credit union. When I rolled down the driver's window to enter her card number and pin, the bitter Illinois winter wind blasted into the car. Burr!
When I tried to withdraw $600.00, the screen showed a $3.00 fee!  The fee is supposed to be $2.00, but not until the second withdraw. I accepted the extra charge, but the transaction didn't go through. Trying $597.00 to account for the fee didn't work either. I tried two more times, lowering the amount each time with no success while the wind froze my eyeballs and fingertips.
Thinking the ATM was broken or out of money, we headed inside to speak with a teller. "I'm sorry," she said. "Apparently, the government cards don't work with our machine."
I tried two other ATMs without success. Finally, using my phone, I googled the EIPcard.com website listed on the card. Ah Ha! I had to use an in-network ATM. I clicked on the ATM Locator tab and got a list that included the Target store, which was close by. It also refused to spit out money.
Shivering from the cold, we returned to Mom's place, where I used her computer to research more options.
Transfer Stimulus Payment to a Bank Account
Transfer Funds Online at EIPcard.com
I set up an account for Mom on the website, but I stopped cold when asked for her social security number. So far, every option I tried didn't work. Should I trust them with her SSN?
"Let's just call it a day," Mom said. "We're both tired. Take the card with you and try one of those other ATMs when it's warmer outside."
The weather turned from bitter to brutal as snow and ice blanketed the United States for the next five days. I called Mom and suggested that if she trusted the EIPcard website, I could use my computer to transfer the money. She agreed. I input her personal information, requested a $600.00 withdrawal, and clicked the button. The transaction failed.
I wasn't frustrated as much as I was flabbergasted at the absurdity of giving a debit card to our oldest citizens who have health challenges and rarely leave their homes. Why not send their stimulus money by direct deposit, since that's how they get their social security money.
It's their children, the younger seniors in their 60s and 70s, with our own aches and pains, who must navigate this stimulus debit card scavenger hunt on our parent's behalf.
Transfer Funds by Calling 800.240.8100
I called the 800 number believing I would talk to a real person, but that wasn't an option. Following the robotic voice instructions to transfer money, I again plugged in Mom's personal information, the transfer amount and pushed the button. There was no confirmation that the transaction went through, but it did show up on Mom's EIPcard account, which was still open on my computer screen. Finally!
It's Not Over Yet
The following day, I was focused on the breaking news about Texas's deadly winter storm that left millions without power in harsh cold temperatures when Mom called and announced, "My money is frozen in Texas."
The credit union's online banking provider, which is located in Texas, lost power. After they got their generators up and running and restored online banking, the city implemented mandatory power blackouts every 30 minutes. When they could turn the generators back on, they couldn't refuel them because the storm impacted transportation. It took three more days for the stimulus payment to make it into Mom's account.
Both Mom's friend and I have now received our third stimulus payment by direct deposit.  The big question is, will my mother be that lucky?  I certainly hope so.
I've got to go now. Mom is waiting with cash in hand. It's time to buy eggs, milk, and wine!