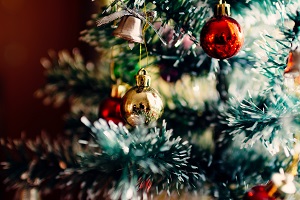 When it comes to Christmas, I've never gone all out like they do in the movies.
Commercially, the Christmas focus is on selecting the perfect gift for every family member, but I don't have the female shopping gene. I have trouble deciding what to buy for myself, let alone others. Thank goodness our grandchildren are finally old enough to appreciate the gift of cash.
Cooking a full-blown, home-cooked Christmas dinner for the extended family isn't my thing either, even though I did it for many years. And honestly, I don't remember the last time I made Christmas cookies.
When it comes to decorating for the holidays, I'm a minimalist. I put a few small Christmassy items inside the house, and the front porch railing gets garland and a wreath.
You may think I'm a Grinch, but I'm not. Now that I'm older and wiser, I don't feel obligated to do the traditional cooking, baking, shopping, and decorating that used to zap my Yuletide spirit.
I've found a much better way for me to enjoy the season. I watch Christmas movies!
In 2020, Hallmark produced 85 movies: 53 on the Hallmark channel, 32 on the Hallmark Movies and Mysteries channel, and 40 of them are Christmas movies. They started airing in October and will run through January 2.
And that's not all! There are Christmas movies on other channels, too.
This year, without leaving the comfort of my home, I've experienced Christmas tree lightings, tree decorating, cookie baking, and family get-togethers. I've ice skated, went on sleigh rides, made snow angels, and threw snowballs.
If I'd been shopping for presents and planning a big meal instead of living vicariously through Christmas movies for the past eight weeks, I wouldn't be feeling the Christmas spirit like I am right now.
If you need to bump up your Yuletide energy, grab your favorite drink (mine's hot cocoa with Butterscotch Schnapps), turn on your TV, and watch a Christmas movie!
Merry Christmas and a happy, healthy New Year!
Gaye