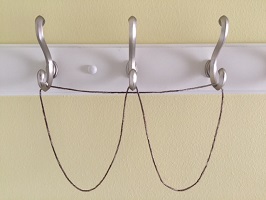 1990. I tied the 50 inch piece of string into a circle and tossed it into the air. It snagged one of the hooks on a wall mounted coat rack in my bedroom like a pair of panties flung during a passionate movie scene.
The string toss was a writing prompt. The shape of the string or whatever it landed on was supposed to inspire an idea for a personal experience story. Sadly, the only airtime my undies ever saw was when they were hurled into the clothes hamper. No story there.
I rearranged the string, looping it around the first and third hook. The parallel strings now hung like the Cheshire cat's grin. Unfortunately, I'd already written a story about my plastic minister's wife smile.
Taking ahold of the cat's lower lip I slipped it up and over the middle hook. Then I pulled the excess string between the hooks, down into two large loops which now hung well below the upper lip. When I stepped away, two sagging breasts stared back at me. I couldn't write a story about breasts!
Needing fresh eyes, my children were corralled into the bedroom, informed of my assignment and instructed to look at the string. "What do you see?" I queried.
"Sunglasses," Andrew (12) announced.
"Two closed eyes or two upside down mountains," chimed Karen (8).
Michael (16) added, "I see string hanging on three protuberances."
His siblings and I stared at him in silence until a self-satisfied smirk grew on his face and he confessed, "Protuberance is a new vocabulary word."
"Good job Michael!"
What else do you see?" I asked my advisers.
"Could be two airplanes nose to nose in a race," said Andrew.
"Or a kneeling woman wearing a skirt," offered Karen.
It was difficult for me to believe that the boys didn't see breasts, so I pressed on. "Was there something you thought of, but hesitated to say out loud?"
Karen moved closer to the string, studying it. Andrew lifted one eyebrow in a Mr. Spock imitation and started to giggle. Michael, snickering, lowered his eyes to the floor.
"Ah Ha!" I shouted. "You saw breasts, didn't you?"
"The boys squealed, flinging themselves onto my bed in uncontrollable laughter.
Karen stared blankly at the string. Then, with a sudden gasp, put her hand over her mouth, turned to face me and mumbled through her hand, "are you gonna write about . . .you know?" She quickly glanced at the string and then back at me with wide eyes.
"No, of course not," I assured her. "I could never write a story about breasts."
When the kids cleared out, I picked up my pencil and notepad. After staring long and hard at the string, I wrote my first sentence. All the girls in the sixth grade had two bumps on their sweater, except for me.
© Gayellen Kick 2018
Click subscribe at the top of the page to be notified by email when there is a new post.
Click Home to read more Stories From The Middle.
Share this post and leave a comment using the links and reply section below.
Thanks for reading! You may now continue with the unused portion of your day.