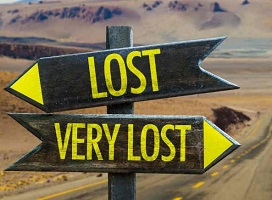 Early in our marriage Ron drove us from Springfield, Illinois to Crystal Lake, Illinois for my older sister's wedding anniversary bash. My plan was to arrive by noon, eat lunch and help prepare the house for the big event the following day.
We didn't have a cell phone or GPS back then. Usually, I am the navigator, watching the road signs and giving directions, but this time I was reading Fat Tuesday by Sandra Brown, totally absorbed in the imaginary world.
Ron had only driven to Melody's a couple of times, but after twenty years in the Navy he was fond of saying, "I've been half way around the world a dozen times and never been lost", so I assumed he would get us there on time without my guidance.
The route was simple: Northeast on I-55 from Springfield to Bloomington. Then straight north on I-39, which runs through the middle of the  Illinois prairie to Rockford. Then east on US 20 to IL 176 and on to Crystal Lake.
As we moved along the highway I lost track of time, devouring each word in the book. I rarely glanced up as the landscape whisked by. Once, when I did lift my head, a tiny thought inserted itself that the scenery on I-39 was more urban than I remembered, but it slipped away as quickly as it had arrived.
Ron broke the silence a little later when he asked, "What route am I looking for next?"
"I don't remember," I replied, with nose in book. "Ask me again when you cross over I-88 and I'll look at the map. It's four or five exits after that."
Twenty minutes later, lifting my head to rub my neck, an exit sign for Brookfield Zoo caught my attention and my brain finally recognized the Chicago suburban sprawl. "Where the hell are we?" I screamed.
Ron calmly said, "We haven't crossed I-88 yet."
"But how did we end up on I-55?"
"Ummm… we never left it."
"But when you asked me where to turn, weren't you on I-39 going north?"
Cautiously he replied, "Nooooo."
I pulled out the map and shouted, "Oh my God we're gonna end up in Lake Michigan! Take the next exit and turn north."
It was noon. The traffic was bumper to bumper in the suburb of Berwyn. I was fuming and hungry while Ron remained strangely unruffled.
"It's a beautiful day for a drive," he announced. "Have you ever been to Berwyn?"
The words hissed as they fired rapidly between my lips. "Never been here! Don't want to be here now! Never want to be here again!"
"I think we need to eat," he said pulling into Hardees.
I gave him my order and headed for the restroom where I locked myself in a stall and had a meltdown. All I wanted was to read Fat Tuesday. Was that too much to ask? Can't I read in the car without having to also pay attention to the road? And now we're gonna be late!
When I settled down, I washed the tears from my face and looked at myself in the mirror. I swear the reflection rolled her eyes and said "WHAT IS WRONG WITH YOU?"
I began to laugh at my melodramatic, drama queen hissy fit. My face turned red with embarrassment though when I thought of the composed kindness in which Ron had handled my outbursts. I had yelled at him! Over what? Wanting to read instead of navigate? A missed exit I hadn't told him to take? I should have ordered crow for lunch.
I apologized as we ate, for everything, including accusing him of getting us lost. He smiled, replying. "I wasn't lost. I've been misplaced, but never lost."
Two weeks later we watched the movie Prelude to a Kiss. The story took place in Berwyn. While on vacation that same year, tacked to a restaurant's bulletin board was a letter raving about the food. The writer was from Berwyn. Both times Ron said, "And because I missed an exit you can say you've been to Berwyn."
There is the old adage, "What goes around, comes around". Six years ago, I chauffeured Mom and Melody from Springfield to Indianapolis, Indiana to visit my younger sister Julie for the weekend. At the end of the visit, I knew there was an impending thunderstorm traveling northeast up from St. Louis that would hit Springfield that evening and wanted to get home before the rain came.
Since I knew the way home; west on I-74, south on I-57 for two miles, then west again on I-72, I turned off the GPS. It was dusk when we reached Champaign, IL where I turned south on I-57.
Even though we had talked all weekend, we were still fully engaged in conversation in the car. So for thirty minutes I'm barreling south on I-57 thinking I'm going west on I-72 when I notice lightening from the approaching storm on my right instead of in front of me. I assumed the storm had hit sooner than predicted and was already north of I-72, but another thirty minutes later when it started to downpour, I noticed an exit sign for I-70 west to St. Louis. Where the hell were we?
We should have been only forty minutes from home, but we were 75 miles south of Champaign in Effingham, IL. I appreciated their candor when both Mom and Melody admitted that they too had missed exits and gotten lost, but the humiliation in the pit of my stomach was as unsettling as the hammering rain on the roof of the car.
I turned onto I-70 going southwest toward St. Louis, heading directly into the thunderstorm, then turned north on IL 51. I did know my way home from here. Really I did! On the way I pointed out both the Vandalia and the Taylorville Correctional Centers. When Julie called Melody's cell phone to make sure we were home, Melody replied, "No not yet. Gaye's giving us a tour of Illinois prisons." Oh, the embarrassment!
The rain had stopped when I finally got home. Ron was standing in the driveway enjoying the night sky after the storm. After we hugged I asked," Do you remember Berwyn?"
A sly smile tipped the corner of his mouth, "Yeah."
"I missed the I-72 exit", I admitted. "What should have taken 85 miles to get home from Champaign took 185."
"Well how about that! Welcome to the club."