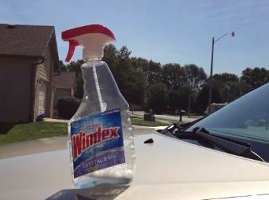 I set the Windex bottle down
upon the Camry's hood.
My windshield sparkled clean and clear,
like all windshields should.
But then a heard a tip tap sound
and turned my head to see
the Windex walking on the car,
determined to be free.
Windex Walking Video
(use back arrow to return to post)
With tiny steps, it hurried on
strong-willed and resolute.
I watched with curiosity
as it chose its route.
Where was it going? Could it not see
the downward slope ahead?
I was sure that it would fall,
yet onward still it tread.
Had it been weighted down inside
it would have stood its ground.
But in its almost empty state
it now could get around.
When you are at your lowest point
that is when you'll find
new inventive ways to live
if you just use your mind.
That Windex bottle ne'er before
had ever needed shoes.
So set your mind on what you want.
What have you got to lose?