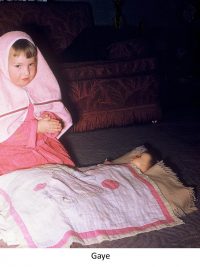 December 1956. My older sister Melody age 5, dressed in a pink bathrobe and a pink towel on her head, carried a baby doll wrapped in swaddling clothes (a cream colored doll blanket).
She lead the way from Nazareth (our bedroom) through the mountains (the kitchen) to Bethlehem (the living room) to the manger (a pillow on the floor covered with a wool doll blanket the color of straw).  I was 3, trailing behind her, reverently carrying my favorite doll blanket edged with a pink border and embroidered with the outline of a dog playing with a pink ball beside a pink flower.
Since reenacting the nativity was Melody's idea, she had the first turn portraying Mary. Mom stood by with her Canon 35mm camera to document our unusual playtime. She got a shot of Melody smiling at baby Jesus as she cradled him in her arms. (see photo below). When Melody placed Jesus in the makeshift manger, I covered him with my pink doll blanket so he wouldn't be cold. Since it was my favorite blanket, I didn't think he'd mind all the pink.
As the creative director and author of our daily activities, Melody was known to play fair. The "Let's Pretend We're Mary" production was no exception. All I had to do was to wait patiently for my turn.
When that time came, Mom helped me put the bathrobe on and pin the towel under my chin. I knelt beside the manager, put my hands together in prayer and looked straight into the camera for my photo op. (See top photo)
The film was developed into slides. Once a year Dad would pull out the slide projector and screen from the closet and Mom would make popcorn. The family watched our life in review, slide by slide, with the smell of dusty projector bulb wafting in the air.
With the slides of our nativity play enlarged to 4 x 3 feet before my eyes, it created within me a secret desire to portray Mary in our Sunday School Christmas pageant, which was held on Advent Sunday, the first Sunday after Thanksgiving.
It wasn't as if I thought about being Mary every day. It wasn't even important enough to mention it during bedtime prayers, but as Christmas drew closer, with fingers crossed, I hoped I would be picked to be Mary.
Unfortunately, for the next few years I had to settle for little kid parts, which included group singing, typically Away in the Manger or reciting a small sentence. Preteen boys got to be either Joseph, one of the three wise men, or a gang of shepherds. Preteen girls were automatically assigned to the angel's chorus, even though the Bible depicted angels as male. Many of the girls I knew could have easily portrayed a shepherd since half of them lived on a farm and showed cattle, sheep and goats at the county fair, but gender specific roles were still the norm back then. Being cast as Mary was not only THE most coveted role for a girl, it was the ONLY role.
As I stood in the back row, in my white robe singing Gloria in excelsis Deo, my eyes focused on Mary. She sat reverently dressed in blue garments, her hands folded in prayer, her head tilted down looking in at the babe in the manger. My thoughts fast forwarded to next Christmas. It would be my last year in the pageant. My last chance to be Mary.
I was ecstatic the following November when I got the coveted part in the upcoming pageant. Me! Mary! Finally! My heart sang and my toes tingled. The week before the pageant, with hands folded in prayer, I practiced walking solemnly through the house, smiling down at my little sister Julie, age 6, as I passed the sofa where she laid infected with the mumps.
Regrettably on Thanksgiving, three days before the pageant, I was forced to join Julie on the sofa while a non-contagious girl took my place center stage. (Check out the post A Thunderball Thanksgiving)
Sixteen years later, dressed in blue garments, my dream to portray the mother of Jesus in a Christmas pageant was finally fulfilled. All I had to do was wait patiently – and be the only woman in the congregation who was visibly pregnant.