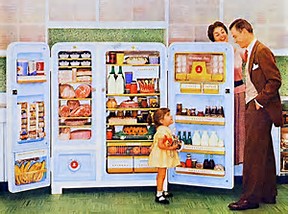 If you haven't been refrigerator shopping lately, don't leave home without your sense of humor!
Our twenty year old top freezer refrigerator started making a strange intermittent sound. Have you ever heard the squeak a dog can make at the end of a big yawn? It sounds like that.
Being the proactive person that I am, I dragged Ron to appliance stores to research our options before we were caught in the cold (or would that be hot) without a fridge.
The first stop was a big box store. The refrigerators in the top freezer section were reasonably priced, but they were smaller than the one we were replacing.
"What color are you looking for?" the salesman asked as he shuffled over to greet us.
"Bisque," I cheerfully replied.
He scrunched his face, spitting the word back at me. "Bisque? They don't make that anymore; stainless steel, black and white are your only options.
"But my stove and dishwasher are bisque," I moaned, the smile draining from my face. "Where are the regular top freezer units 32 X 67 X 29?
"No one carries that size anymore. Consumers want bigger units; wide and deep. What was once a typical family size is now a custom order."
Ron jumped into the conversation. "We don't want to downsize, just replace. Does a custom order cost more?"
The salesman nodded in the affirmative, as an after thought he added, "We sell a ton of these smaller units to landlords."
Ron snickered when we left the store. "That was weird. Did I say something to make him think we owned rental property?"
When I told the next salesperson I wanted bisque to match our other kitchen appliances, but would settle for white, she said, "You don't want to mix colors.  Bisque appliances look dingy next to white."
She went online to search her company's inventory and found a bisque top freezer in the size we wanted, but it was as expensive as the lower end side-by-sides and bottom freezers. "Maybe you should take this opportunity to upgrade all your appliances to stainless steel," she suggested.
"No thanks." I had visions of a refrigerator covered in fingerprints.
At this point we knew we would be forced to pay over $1200 for a new refrigerator, so we decided to upgrade to one of the newer models.
The salesman in the next store showed us multiple stainless steel side-by-sides and bottom freezers, but when I mentioned fingerprints he countered with, "People don't put their hands all over their refrigerator. They only touch the handles."
Are you kidding me?  People, especially grandchildren, touch everything! We wandered around on our own and when we caught up with him later, he was wiping stainless steel refrigerators with a special cleaner.  No fingerprints, huh?
The fourth store introduced us to a new "smudge-proof" stainless steel which has a protective coating.
"Does this really prevent fingerprints?" Ron asked.
The saleswoman awkwardly pulled us aside, whispering, "Yes, but if the stainless steel gets scratched, there's a white base coat underneath that shows through."
Hmm…what shall we pick; fingerprints on regular stainless steel or white scratches on smudge-proof stainless steel? How about NOT stainless steel?
We tabled color options to focus instead on the pros and cons of the new styles. The side-by-sides are deceiving. They have the same cubic feet as the newer models, but they look small on the inside – and narrow – and claustrophobic. Plus all the units on the floor came with a water/ice dispenser. That's a service call waiting to happen.
I liked the concept of a bottom freezer with fresh food at eye level. No more kneeling on the floor to grab a beer from the bottom shelf, but the main freezer section was just a deep bin. I visualized digging through a jumbled mess of frozen food, my arms turning to popsicles as I hunted for a package of pork chops.
Both styles have extra-deep door shelves to accommodate gallon milk jugs. It's just the two of us. The only time we have a gallon jug in the house is once every 5-10 years when one of us is prepping for a colonoscopy. We didn't need deep shelves.
Then it hit us. These deeper styles would block a portion of the hall entrance into our kitchen.  We headed home, measured, and pulled the fridge out from the back wall to the same depth of a deeper unit.  The right side of the fridge extended into the doorway by 5 inches. The left side of the fridge, which already extended beyond the counter by 6½ inches, was now 12 inches deep, not counting the door handle. Would this nightmare never end?
My sense of humor was quickly fading. I was exhausted. I needed food. Setting lunch meat and bread on the counter to the left of the refrigerator, I made myself a sandwich. Ron was on the other side of the house, so I hollered, "Are you going to eat something?"
A few minutes later I heard Ron walk several times back and forth down the hallway outside the kitchen. What was he doing? He finally stopped at the kitchen entrance and shouted, "Where are you?"
"I'm right here," I said backing away from the counter, wondering why he was shouting four feet away from me. We both realized at the same time that I had been completely hidden from view in that 12 inch alcove on the left side of the fridge. We couldn't stop laughing. Ah, the sweet relief of humor to alleviate the mounting irritation of the refrigerator expedition.
It was late in the day when we headed back to the box store. Earlier, we had focused on top freezers and wanted to checkout their other inventory. That's when the miracle occurred.
We rounded a corner and saw a sign on a refrigerator indicating "Counter-Depth"; this would solve my kitchen invisibility issue. We were so thrilled we boogied down the aisle, ending the impromptu dance with a booty bump.
Wait a minute! We stopped cold as we looked closer at the refrigerator. It was a scratchable smudge-proof stainless steel, claustrophobic side-by-side, with service prone water/ice dispenser. We didn't want ANY of those options!
Seeing the disappointment on my face, Ron put his arm around me and whispered, "Everything in its own time."
He was right. Our mission was to collect information about refrigerator options, which we did. We were now fully armed with information for the day when our fridge (nicknamed Squeaky) kicks the bucket. Hopefully, that day won't be anytime soon!
As we left the store I yawned, ending it with a squeak. "Did you hear that? I speak fridge!"